Wacken Open Air 2019
01. - 03. August 2019 - Das Wacken Open Air (W:O:A) ist das größte Metal Festival der Welt. Mit 800 Besuchern 1990 mit einer selbst gebauten Bühne in einer Sandkuhle am Ortsrand gestartet, pilgern dieses Jahr wieder über 75.000 Fans aus aller Welt ins kleine Dörfchen Wacken im Bundesland Schleswig-Holstein und lassen die 2.000-Seelen-Gemeinde für mehrere Tage zum Mittelpunkt der Festivalszene werden. Und die Sandkuhle reicht heute nicht einmal mehr für die 5000 Mitarbeiter der Festivalproduktion. Schon in den ersten zwölf Stunden nach Ende des letztjährigen Heavy-Metal-Festivals waren 40000 Tickets zum Preis von 220 Euro je Karte verkauft worden, nach nur 4 Tagen war es ausverkauft. Im letzten Jahr war erst rund zwei Wochen vor dem Start ausverkauft, 2015 und 2016 dauerte es nur wenige Stunden bis zum Sold out.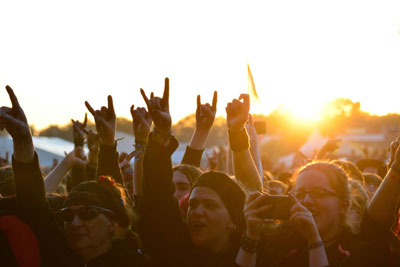 Festivalgelände und Campingplätze umfassen heute mehr als sieben Quadratkilometer und sind damit fast 20 mal größer als der Vatikan. Die Mutter aller Heavy-Metal-Festivals ist eine Partnerschaft mit Kaufland eingegangen. Mit dem 1300 Quadratmeter großen Supermarkt hat Wacken einen Lebensmittelhändler als einen der Hauptsponsoren gewonnen und eine Vollversorgung der Metalfans direkt auf dem Veranstaltungsgelände ermöglicht.
Wacken soll in den kommenden Jahren auch grüner werden. Die Macher haben seit letztm Jahr eine Partnerschaft mit dem E-Mobilitäts-Spezialisten GP Joule aus Reußenköge in Nordfriesland. Langfristig sollen keine diesel- oder benzingetriebenen Aggregate mehr eingesetzt werden.
Auf den 9 Bühnen wird es wieder laut. Die Trash-Metal-Formation Slayer tritt zum letzten Mal auf.
Zuletzt bestätigt wurden folgende Bands: Acres, Alabama Black Snakes, Axxis, Bai Bang, Bloodywood, Brass Against, Brenner, Cancer, Cesair, Christopher Bowes and His Plate of Beans, Coppelius, Damnation Defaced, Dampfmaschine, Der Fluch des Drachen, Diamond Head, Diary of Dreams, Die From Sorrow, Dream Spirit, Drunken Swallows, Duivelspack, Extrabreit, Fiddler's Green, Jared James Nichols, Kvelertak, Molllust, Mono Inc, Monstagon, Mr. Hurley & Die Pulveraffen, Nailed To Obscurity, Operus, Paddy and the Rats, Ragnaröek, Reckless Love, Reliquiae, Saor, Saxon, Sibiir, Sikth, Skald, Skyline, Skynd, Soul Demise, Stoneman, Tanzwut, The Linewalkers, The Moon & The Nightspirit, The O'Reilleys and The Paddyhats, The Rumjacks, The Sinderellas, Tuxedoo, Unleashed, Victims of Madness und Violons Barbares.
Weiterhin am Start: Aborym, Acranius, Airbourne, All Hail The Yeti, Angelus Apatrida, Anthrax, Asrock, Avatar, Baby Face Nelson, Battle Beast, Beyond The Black, Black Stone Cherry, Bleed From Within, Body Count feat. Ice-T, Bullet For My Valentine, Cradle Of Filth, Crazy Lixx, Crematory, Crisix, Critical Mess, Crobot, D-A-D, Dark Funeral, Deathstars, Delain, Demons & Wizards, Die Happy, Die Kassierer, Dirty Shirt, Downfall of Gaia, Eclipse, Eisbrecher, Eluveitie, Emil Bulls, Equilibrium, Evergrey, For I Am King, Frog Leap, Gama Bomb, Gernotshagen, Girlschool, Gloryful, Gloryhammer, Grave, Hamferð, Hammerfall, Harpyie, Hämatom, Hellhammer performed by Tom Warrior's Triumph of Death, Jinjer, Kaizaa, Kärbholz, Krokus, Lagerstein, Legion Of The Damned, Life of Agony, Lucifer Star Machine, Manticora, Meshuggah, Michale Graves, Monster Magnet, Myrath, Nachtblut, Nashville Pussy, Nasty, Necrophobic, Night In Gales, Nordjevel, Of Mice & Men, Opeth, Parkway Drive, Powerwolf, Primordial, Prong, Prophets Of Rage, Queensrÿche, Rage, Rose Tattoo, Sabaton, Santiano, Savage Messiah, Septicflesh, Skew Siskin, Skyclad, Slayer, Soil, Subway To Sally, Suidakra, Sweet, TesseracT, Testament, Tausend Löwen Unter Feinden, The Adicts, The Bosshoss, The Crown, The Damned, The Lazys, The Night Flight Orchestra, The New Roses, The Quireboys, The Sisters of Mercy, The Wild!, The Vintage Caravan, Thy Art Is Murder, Torment, Tribulation, UFO, Uriah Heep, Vampire, Velvet Viper, Venom Inc., Versengold, Vltimas, Vogelfrey, Warkings, Wiegedood, Windhand, Within Temptation, Witt und Zuriaake.
Hoffentlich wird es wieder so ein grandioses Wacken-Wetter wie 2018. Also lockert schon mal die Nackenmuskulatur für die 30. Jubiläumsausgabe des Festivals.